PRACTICAL LIFE
These exercises lay the foundation of a Montessori classroom. These are everyday life skills that children learn in order to function in society. These activities satisfy the need for imitation, repetition, and help develop coordination. They enable children to expand their attention span and develop concentration essential for all academic learning to manifest. Independence, self-confidence, body consciousness, and self-awareness develop steadily through the use of materials for: caring for oneself and the environment, social skills of grace and courtesy, and control and refinement of movement.
Preliminary Exercises of Practical Life
Carrying exercises, stringing beads, sorting, pouring, scooping, opening and closing.
Care of Person
Dressing frames: button, zipper, snap, buckle, laces, hook & eye, and bow. Hand washing and grooming.
Care of the Environment
Polishing, table setting, flower arranging, dusting, sweeping, care of plants, cloth washing, lunch clean up, use of bathroom, care of classroom, care of animals, and food preparation.
Grace and Courtesy
Greeting, listening, respect for other children, and respect for adults
Coordination
Silence Game and Walking on the Line

LANGUAGE
This allows for enrichment of vocabulary, phonetic and non-phonetic sound recognition and assimilation, function of words, and complete reading and writing. These basic skills are acquired through the use of materials in three-dimensional forms. Once these skills are mastered, the child is ready for interpretive reading and creative writing.
VISUAL DISCRIMINATION
Matching, similarities and differences, sequences, categorizing
WRITING
Metal inset (pencil control), sandpaper letters, left to right movement, upper case, lower case, sequences (1,2,3 letters words), sentence composition
PRE-READING
Identification of upper and lower case letters, pronounce consonant sounds, pronounce short vowel sounds
READING
Movable alphabet (phonetic sound assimilation, phonograms, level 1: 3 letter phonetic words, level 2: r-controlled vowels, level 3: phonograms/vowel difficulties, level 4: phonograms/consonant difficulties, level 5: compound words, puzzle words, sight words, phonetic books, level books
PARTS OF SPEECH
Noun, adjective, conjunction, preposition, verb, adverb
COMPREHENSION
Reads and understands words, reads for enjoyment
WORD STUDY
Compound words, singular/plural, prefixes, suffixes, homograph, homophones.

MATHEMATICS
Mathematical materials provide the means for the discovery of mathematics and the fundamental skills to calculate. Concepts are understood by use of concrete forms before abstracting theories. After understanding has been achieved, memorized learning is meaningful
NUMBER 1-10:
Linear counting, symbol, quantity, association of symbol and quantity, odd and even, writing numbers, bead stair counting
DECIMAL SYSTEM
Introduction to hierarchies, golden beads quantity, symbols (units, tens, hundreds, thousands), decimal system layout (1-1000), formation of number 1-9,999, addition, subtraction, division, long division, multiplication, word problems.
PASSAGES
The in-between numbers, counting from ones, teens, tens, hundreds, thousands. Skip counting, equality/inequality
FACTS AND TABLES
Use of Addition charts, subtraction charts, multiplication charts, division charts to master facts. Memorization of addition, multiplication, subtraction, and division tables.
ABSTRACTION
Small bead frame: notation, + - x / , hierarchy. Using mathematical concepts to solve problems.
SENSORIAL
All the faculties of intelligence are developed through exploration of the various materials of varying dimension, color, shape, texture, smell, and taste. The special materials are organized for developing and refining each sense while isolated from the other senses, thus enabling the utmost refinement. These are essential for the ability to discriminate differences, similarities and identities, and for enhancing the memory, the imagination and consequently the appreciation and interpretation of the fine arts.
VISUAL
Differences in tall/short, thick/thin, large/small, thin and tall/ thick and short, pink, differences in dimension, thickness, and length
color: consciousness, limited and unlimited variations
geometry: (basic figures, three sided figures, rectilinear figures, many sided figures, continuous circle/unbroken lines, four sided figures, curvilinear figures), geometric solids (cube, rectangular prism, triangular prism, square pyramid, triangular pyramid, cylinder, cone, sphere, ellipsoid), grading with rectilinear figures, polygons, and circles, constructive triangles (right, scalene, isosceles, equilateral, unequal, obtuse), binomial cubes (binomial theorem), trinomial cubes (trinomial theorem)
TACTILE
Rough and smooth, variation of roughness, variation of smoothness, variation of textures
AUDITORY
Discrimination and variation of sounds, music bells
BARIC
STEREOGNOSTIC
Consciousness of possibilities (paring, sorting, mystery)
OLFACTORY
Discrimination of variety of scents: vanilla, cinnamon, lavender, rose
GUSTATORY
Discrimination of tastes: sweet, sour, bitter, salty
CULTURAL ARTS
Geography, Botany, Zoology, Art, and Music expose children to the world and enable them to appreciate the importance and the beauty of nature, the diversity of people and their cultures.
ART
Periods, artists, creative expression, art mediums.
MUSIC
Periods and its composers, musical instruments, bells, movement.
GEOGRAPHY
Days of the week, month, land and water forms, solar system, earth: (layers, globe, hemispheres, continents, oceans, zones), maps: world, USA, North America, South America, Asia, Africa, Antarctica, Australia), parts of a flag.
BOTANY
Study of plants, life cycles, parts and functions. Gardening.
ZOOLOGY
Vertebrates/invertebrates, animal kingdom, animal homes, life cycles
BIOLOGY
Parts of the body, internal organs, senses, important systems
HEALTH
Nutrition, physical hygiene, exercise
COMMUNITY SERVICES
Awareness of civic sense, community helpers, conservation, recycling.
HISTORY
Famous people, historical events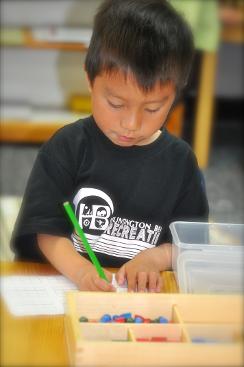 The Stamp Game is a concrete way for a young child to understand the process of Addition, Multiplication, Subtraction, and Division. Children are able to add, multiply, subtract, divide 2 or more digits.