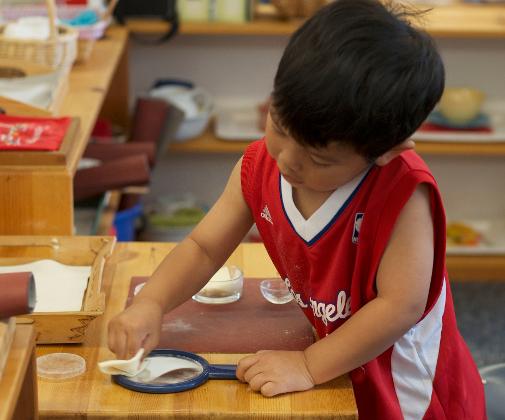 Three to six is the stage of the "Absorbent Mind". This is the period when conscious learning begins to appear. Children learn from their environment by direct interaction with the core Montessori materials. These are the formative years for laying the foundation for future learning. Interactions with friends during this three-year period establish a community within the classroom.
KINDERGARTEN (3RD YEAR PRIMARY MONTESSORI)
The 3rd Year Primary Montessori is the most rewarding one of all in all Montessori classrooms. This is a time when many of the earlier lessons come together and become a permanent part of a young child's understanding. Through the Montessori method, your child started as a novice during their first year, grew to an apprentice in their second year, and now in their third year, as a Kindergarten student, will become a leader. Children's learning is astounding, as they discover reading independently, become helpful and responsible citizens, and respectful individuals. The Montessori Kindergarten child develops skills, such as, love of work, profound spontaneous concentration, physical awareness, coordination, will, independence, confidence, responsibility, and self-discipline. This amazing change comes from having years of hands on experience with the rich and varied Montessori materials and with the assistance of a trained Montessori teacher. After the child has completed the last or Kindergarten year in Montessori, they are more than ready for first grade.